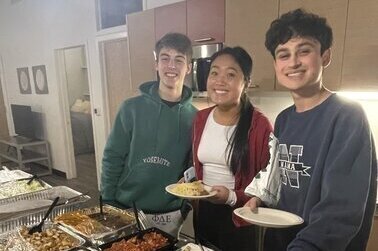 ---
Classes at the University of Michigan are back in session and that means our residents have been making their way back to Ann Arbor, MI for another great semester here at Z Place Apartments. While we hope everyone had an amazing holiday break, we were excited to help kick off UofM Spring 2022 the right way with a variety of residence life events!
On Monday, January 2nd, we started off our Welcome Back Week with our Out with The Old & In with The New campaign, where we held a clothing drive for residents to donate old clothes for a raffle ticket to win a $100 Lululemon gift card. All donations were dropped off at the local Salvation Army.
Day two of Welcome Back Week, we held our Taco Tuesday Fiesta in our Model Apartment for all residents and friends to join. At the event, our residents are given the opportunity to get to know their neighbors better by socializing and enjoying some freshly catered Moe's Tacos. Our residents enjoyed the free food and the opportunity to learn more about renewal rates and our availability for incoming friends looking for housing.
On our third day of Welcome Back Week, we held our Grand Opening of our newly remodeled Fitness Center: We invited our Celsius reps to join us in donating free cases for residents to try all the new flavors. Alongside a table set up for social distancing to grab a healthy snack before hitting the weights. This event was a huge hit garnering interest to host more wellness-friendly events in the future!
For day four, we held Breakfast on the Go: Start your day off right event, where delicious bagels were provided from Revive & Replenish in our lobby. We provided our residents a chance to eat a hearty breakfast to power through the final two days of the first week back in class. Revive & Replenish is Z Place's retailer that is happy to welcome our residents back after each break.
On our very last event of Welcome Back Week, we gave away Back-to-Class Packs for the first 50 residents. We wanted our residents to end their first week back in class in style. We provided school supplies, snacks, and words of encouragement in each pack for residents to grab on their way to class.
It was an awesome week getting our residents geared up for a successful semester at the University of Michigan! We love having the opportunity to provide a best-in-class, UofM off-campus housing experience to our residents, and hosting a variety of engaging events is just one of the many ways we strive to accomplish that. From the whole team here at Z Place Apartments, we wish everyone an amazing Spring semester!